TATA LAKSANA GIZI OLAHRAGA PADA ATLET SILAT DI TAPAK SUCI PUTRA MUHAMMADIYAH SUKABUMI
Keywords:
Gizi Olahraga, Silat, Atlet
Abstract
Pencak silat is an achievement sport characterized by a highly competitive climate, thus demanding athletes to have high performance and endurance. Management of sports nutrition is very important for athletes to help optimize their performance. This study aims to describe the management of sports nutrition in silat athletes at the Tapak Suci Putra Muhammadiyah Sukabumi. This research is a descriptive research with a case study method. The case subjects were two silat athletes with an intake of less than 50% of the total daily nutritional requirement. Case monitoring was carried out for seven days, the data collected included primary data, secondary data and interview results. The results of the 24-hour recall of the athlete's first nutritional intake before being given the intervention only fulfilled 31% (1190 kcal) of the daily nutrient requirement (2943 kcal). The second athlete only fulfills 21% (710 kcal) of the daily nutrient requirement (2782 kcal). The diet therapy given is a balanced diet with a target of meeting 65% and 68% (1898 kcal) of the total nutrient requirement (2943 kcal and 2782 kcal). The menu arrangement consists of ingredients that are easily accessible to athletes. The results of the recall of food intake to the intake target were the first athlete to meet 95% (1805 kcal) of the intake target (1898 kcal). And the second athlete met 78% (1479 kcal) of the intake target (1898 kcal). Based on the results of sports nutrition management starting from assessment, diagnosis, intervention and monitoring evaluation, it was found that both athletes had insufficient nutrient intake and did not meet the needs that needed to be consumed every day. With intervention, the nutritional intake of the two athletes reached 95% (1805 kcal) and 78% (1479 kcal) of the target intake (1898 kcal).
Abstrak
Pencak silat merupakan olahraga prestasi yang mempunyai ciri iklim kompetitif tinggi, sehingga menuntut atlet agar memiliki performa dan daya tahan yang tinggi. Tata laksana gizi olahraga sangat penting dilaksanakan kepada atlet agar dapat membantu optimalisasi performanya. Penelitian ini bertujuan untuk mendeskripsikan tata laksana gizi olahraga pada atlet silat di Tapak Suci Putra Muhammadiyah Sukabumi. Penelitian ini merupakan penelitian deskriptif dengan metode studi kasus. Subjek kasus adalah dua atlet silat dengan asupan kurang dari 50% dari total kebutuhan gizi perhari. Pemantuan kasus dilakukan selama tujuh hari. data yang dikumpulkan meliputi data primer, data sekunder dan hasil wawancara. Hasil recall 24 jam asupan zat gizi atlet pertama sebelum diberikan intervensi hanya memenuhi 31% (1190 kkal) dari kebutuhan zat gizi harian (2943 kkal). Atlet kedua hanya memenuhi 21% (710 kkal) dari kebutuhan zat gizi harian (2782 kkal). Terapi diet yang diberikan adalah diet menu makanan seimbang dengan target memenuhi 65% dan 68% (1898 kkal) dari total kebutuhan zat gizinya (2943 kkal dan 2782 kkal). Susunan menu terdiri dari bahan makanan yang mudah diakses oleh atlet.  Hasil recall intake makanan terhadap target asupan adalah atlet pertama memenuhi 95% (1805 kkal) dari target asupan (1898 kkal). Dan atlet kedua memenuhi 78% (1479 kkal) dari target asupan (1898 kkal). Berdasarkan hasil tata laksana gizi olahraga mulai dari assesmen, diagnosis, intervensi dan monitoring evaluasi didapatkan bahwa kedua atlet memiliki asupan zat gizi yang masih kurang dan belum sesuai dengan kebutuhan yang perlu di asup setiap hari. Dengan adanya intevernsi, asupan zat gizi kedua atlet telah mencapai 95 % (1805 kkal) dan 78 % (1479 kkal) dari target asupan (1898 kkal).
References
Amin, N. (2018). Buku Ajar: Gizi Olahraga. UNUSA PRESS.
Direktorat Gizi Masyarakat. (2000). Pedoman Pelatihan Gizi Olahraga untuk Prestasi. Departemen Kesehatan dan Kesejahteraan Sosial RI.
Peraturan Pertandingan Pencak Silat, (2007).
Irawan, M. A. (2007). Metabolisme Energi Tubuh dan Olahraga. Sports Science Brief, 01(07), 1–9. http://staffnew.uny.ac.id/upload/132318122/pendidikan/metabolisme+energi.pdf
Komariyah, L. (2019). Pengaturan Gizi Untuk Atlet Cabang Olahraga Senam Artistik Putri. Jurnal Kepelatihan Olahraga, 5(1), 35–43. http://ejournal.upi.edu/index.php/JKO/article/view/16243/9106
Lubis, J., & Wardoyo, H. (2016). Pencak Silat (Edisi Ke 2). PT Raja Grafindo Persada.
Sudiana, I. K. (2010). ASUPAN NUTRISI SEIMBANG SEBAGAI UPAYA MENCEGAH KEMEROSOTAN PRESTASI OLAH RAGA.
Syafrizar, & Welis, W. (2009). Gizi Olahraga. Ilmu Gizi:Teori & Aplikasi, 1–441.
Zainur. (2019). Pembinaan Olahraga Prestasi. UR Press.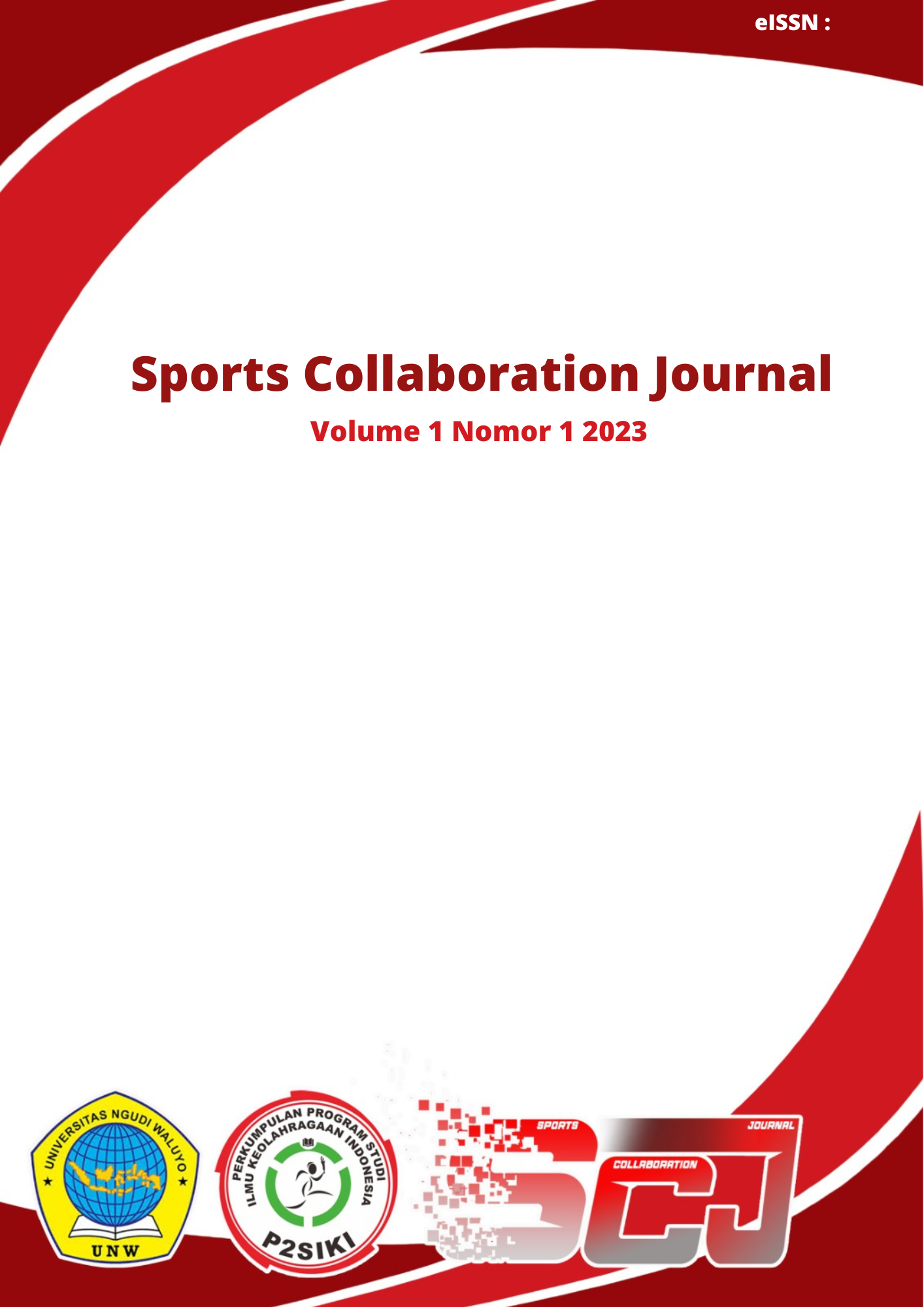 Downloads